Is your Windows operating system playing up again? Are Windows updates being installed correctly or failing? If you've got a sneaking suspicion that something's wrong, then it's a good idea to check your Windows installation and see if everything is the way it should be as some files may have been corrupted by previous software installations.
The procedure you need to do this is simple enough: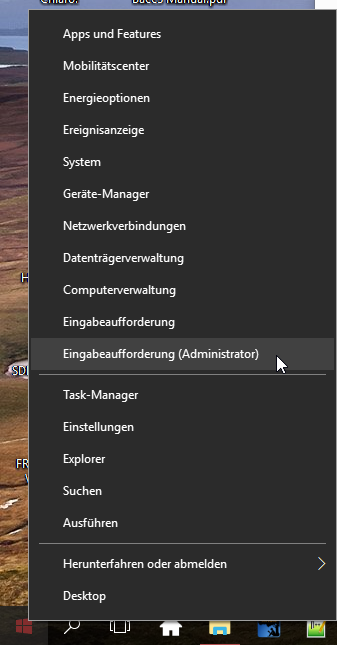 First of all, call up the Command Prompt ('Eingabeaufforderung' in German) as the administrator:
In Windows 10, move the mouse cursor over to the Start button in the taskbar (it's a window symbol), right-click your mouse and select the correct prompt from the list that then appears (there are two prompts, one of which is for the system administrator. Select that one). Instructions for various other Windows systems are provided here.

Second, scan your Windows system by typing this command in the black prompt window that appears:
sfc /scannow
(Write it exactly that way with a space after 'sfc'.)
The letters 'sfc' stand for System File Checker.
Windows' system files, which are protected, will then be scanned internally to see if they are as they ought to be (i.e. SFC will run a file integrity check). This can take a while, depending on how many files there are, what faults get discovered in the system and how long each repair takes (it usually takes around 10 to 15 minutes).
You'll see the progress that SFC is making as a percentage and will also be able to see if any files are found that really are corrupt, in which case SFC will repair them. The prompt will also tell you when the check has finished.
Carl
---
Recommended reading
How to Use SFC /Scannow to Repair System Files by Tim Fisher (Oct. 2017)
How to speed up your Windows 10 PC