MemoQ (pronounced "memo kyu") is a CAT tool that has become very popular among translators, partly because it offers a lot of convenient features and is relatively easy to use; beginners can learn how to set up a project and translate and export texts with the tool in just 1-2 hours. Plus it can process a wide range of file formats smoothly, including Trados 2007's bilingual RTF and SDL Trados Studio 2009/2011 files in XLIFF format. Last but not least, I personally think it's good value for money, especially if you buy it as part of a promotion or group purchase!
A new version of memoQ called memoQ 2013 was released at the end of May and includes lots of enhancements and several new features, including an integrated online dictionary search facility that you can configure yourself using as many of your favourite Web resources as you like. (This is in addition to the Eurotermbank plug-in that memoQ comes with.)
Release 2 of memoQ 2013 is now just about to be launched, and this promises to be a great leap forward in terms of user convenience. For one thing, it has a feature called monolingual review that translators will love! It saves you a great deal of time updating translation memories (TM) when a customer or reviewer sends you the final version of a translation you've done. In most CAT tools, updating a TM to include the latest changes is a laborious manual process, but memoQ 2013 R2 has automated the step for Word® and other documents, employing a re-alignment procedure to update the segments stored in your TM.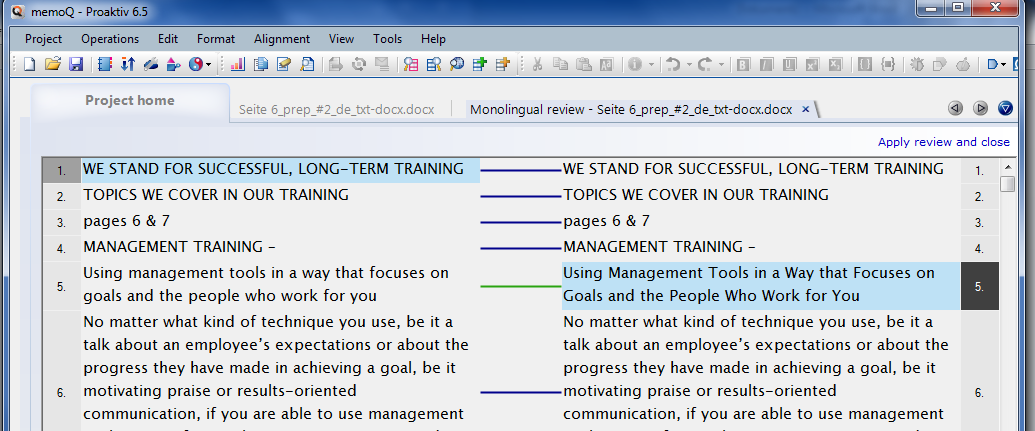 Fig. 1: When you import the final version, memoQ opens an alignment window. The green lines mark the segments that have been changed.
Another enhancement is the ability to import term bases straight from SDL's terminology tool MultiTerm®. This is useful if a customer sends you a document to translate using specific terms they work with and have stored in that format. More specifically, memoQ 2013 now enables you to import MultiTerm XML or TBX files, extract the terms and include them in a term base of its own, which you select yourself. This gives you faster leverage of the customer's resources.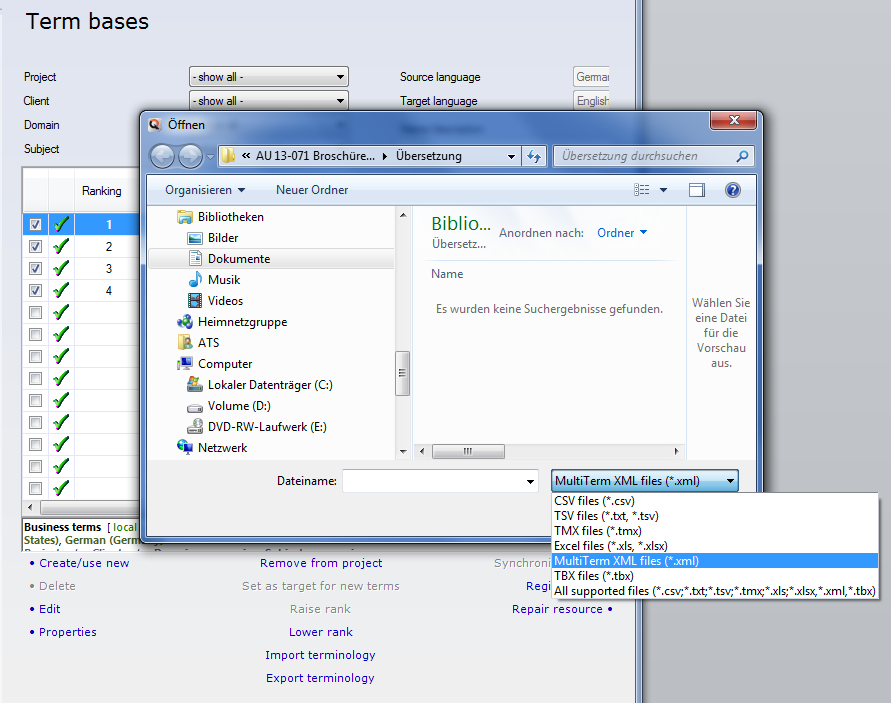 Fig. 2: To import a MultiTerm XML file (term base), click on "Import terminology" and then select the format.
There are a number of other improvements as well, some of which concern the DOCX filter for importing and exporting Word® documents. Exporting comments made in memoQ along with a translation has now been implemented. (This has been possible in other CAT tools such as Déjà Vu X and X2 for ages, but not in memoQ, and saves you a lot of time inserting comments into your translation manually after exporting it.)
But to find out more about it, why not attend Kilgray's introductory webinar on the new release? It's going to be held from 5-6 pm CET (4-5 pm GMT) on Monday 28 October. It's free – all you have to do is register in advance. Click here to go to the registration page.
Have fun trying out the program! (You'll be able to download it shortly and can try it out for free for 45 days.)
Best,
Carl
memoQ logo: courtesy of Kilgray Translation Technologies; screen shots: my own.
---
P.S. (written on 13 Nov. 2013) A free recording of the webinar is now available on the internet – click here to access it.