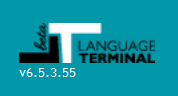 This is just a brief reminder that there's a free webinar on Kilgray's new Language Terminal today (see my earlier post on the user platform here). The webinar will be in English and take place between 5 and 6 p.m. CEST.
Here are some of the points that are going to be covered in it (taken almost straight from an official description of the contents):



Profile listing: publish a list of your services online and allow customers to find it, or search for profiles of other memoQ users.



Project register: turn Language Terminal into your own project register. Turn your analyses into project quotes, send quotes to customers, deliver your work and track the status of your projects – directly from memoQ 2013.



Back up your translation projects: store your translation projects in the cloud (at work) and restore them from wherever you happen to be running memoQ (at home, for example).



Import Adobe® InDesign™ documents with a preview: produce XLIFF files that have a live preview in memoQ. Import native INDD files, not just IDMLs and INXs.



Light resource marketplace: share your memoQ light resources with other Language Terminal members and gain access to theirs. Save others the effort of putting together a complex filter configuration or segmentation rule and in return save yourself time by using resources that others have made available. [end of quote]



A number of other points are also on the agenda as well.
If you're interested in finding out more about this promising server resource for translators (and not just memoQ users), then you should register for the webinar by filling in the online form available here. By attending, you'll be able to ask questions and get answers straightaway. N.B. This event is primarily intended for freelance users rather than LSPs, although they will be keen to know more about the way you can use Language Terminal to look for translators who work with memoQ).


Those of you who are already familiar with SDL's OpenExchange platform will see that Kilgray's platform is only similar in terms of its "light resource marketplace". Even then, it's actual users who mainly upload light resources to share with other memoQ users, while OpenExchange really is a marketplace where third-party enhancements for Studio 2011 are either sold or distributed free of charge.
This promises to be an interesting event.
Regards
Carl
images: my own screen shots
---